Need professional and effective solutions for depot and fleet maintenance?
We're the experts in interior and exterior cleaning of rolling stock, graffiti removal and depot cleaning and maintenance.
If you're looking for the highest standards of fleet cleaning and light maintenance jobs, we can help. Our wide scope of services ranges from basic fleet maintenance tasks such as daily, periodic and exterior cleans, through to more technical jobs like graffiti removal or responding to critical incidents. Currently we are also providing Covid-19 decontamination, sanitising and touchpoint cleaning.
Our highly trained staff and extensive expertise in working within busy train depots enables you to carry out your day-to-day operations efficiently and in a safe environment.
We also have expertise in commercial space cleaning, such as offices, public spaces, warehouses and more. So all your cleaning and light maintenance requirements can be looked after by one reliable partner who understands the importance soft services play in any business setting.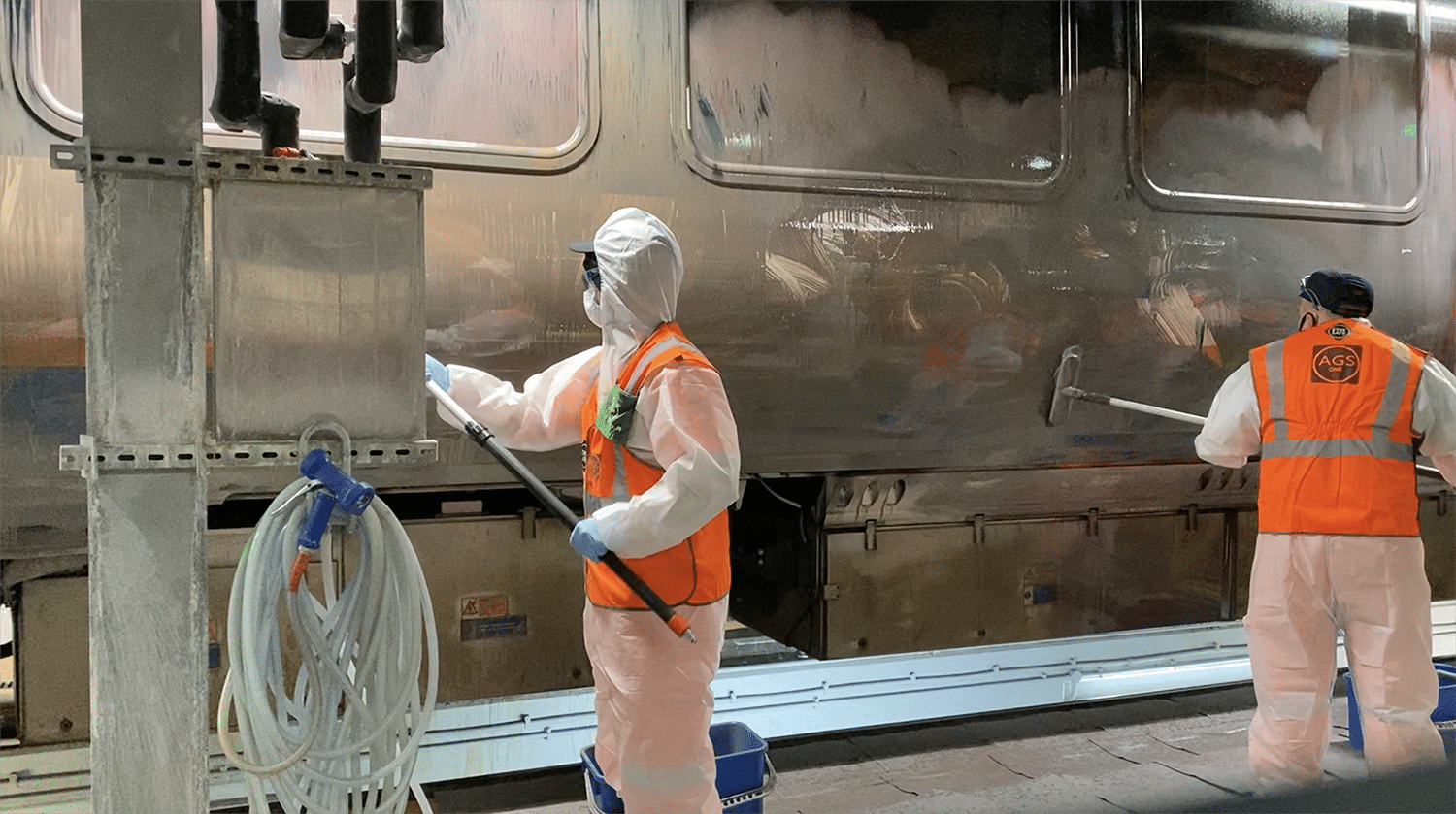 How We Can Help
Flexible Services
We are completely flexible with our approach, either fitting within your current structure and operational set up or working with you to find new solutions for your operation.
Fleet Cleaning
Our highly trained staff, flexible approach and comprehensive cleaning service ensure your fleet of trains, trams or buses is safe for passengers and ready for service.
Depot Cleaning
We know how important a clean and safe working environment is. We can clean every aspect of your depot, working around your operational needs.
Graffiti Removal – Fleet
We can remove graffiti from virtually any interior or exterior surface to your satisfaction. Our staff are certified to attend depots and trackside.
Office Cleaning
A dust free, germ free and tidy environment will help your employees achieve maximum productivity. Our professional cleaning staff will make your offices a pleasure to work in.
Fatality Cleaning
No one wants to think about the need of dealing with incidents, but every fleet operator needs to be prepared. Our trained staff can deal with them in an efficient and professional manner.
How we keep your business running smoothly
Our services include the delivery of daily, periodic, turnaround and exterior cleaning services for your fleet – from the supply of ongoing cleaning services to one-off deep cleans.
Our trained staff will ensure a clean and safe environment for your customers and drivers. We can also supply you with trained and qualified fleet presentation staff, on site cleaning management, material supply and internal quality and HSQE audits.
Our priority is to maximise your productivity, reduce your costs and create a safe working environment. With us on board as your soft services provider, you can focus on other areas of your facility management requirements, knowing that your staff are working in a clean and tidy environment on a daily basis.